Dimitri Papadimitriou in Bloomberg View yesterday:
In December 2010, the so-called troika of lenders — the European Commission, the European Central Bank and the International Monetary Fund — predicted that their measures would move Greece's unemployment rate to just under 15 percent by 2014. A year later, it changed the forecast to almost 20 percent.

This month, the Hellenic Statistical Authority reported that unemployment rose to a record in May, with a seasonally adjusted jobless rate of 27.6 percent. The rate was 64.9 percent for people 15 to 24.

Bold declarations that belt-tightening would produce growth have been pared back, too. Since 2010, the troika has gradually dropped its forecast for 2014 gross domestic product (in money terms) by almost 40 percent. IMF staff reported last week that GDP contracted 6.4 percent in 2012 and will drop 4.2 percent this year before expanding only a little in 2014.

Yet, despite admissions that mistakes were certainly made, no consideration is being given to ending austerity measures. Nor has there been effort to devise a renewal agenda for Greece. The Marshall Plan offers a spectacularly successful model that could easily be adapted.

… Here is how an EU-funded plan for recovery could succeed. Although past bailout funds benefited banks and financial institutions, with a large portion devoted to interest payments for creditors, the new program would focus on debt forgiveness, and then turn to reconstruction projects to rebuild national infrastructure and create public projects at the local level.
Read it all here.
This is what the troika's constantly-downgraded predictions look like, compared to the actual paths of growth and unemployment and projections based on the Levy Institute's stock-flow model for Greece (from "The Greek Economic Crisis and the Experience of Austerity"):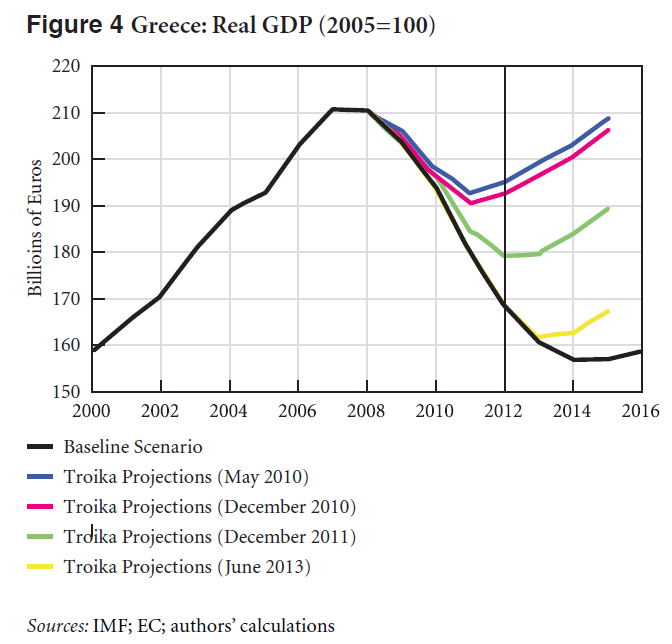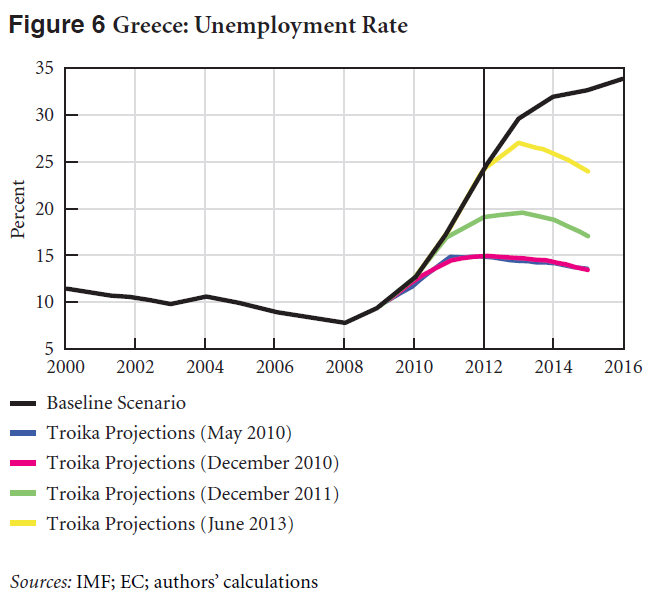 $title = the_title('','',false); ?> if ($title == 'Contributors') { //get_levy_contributors(); } ?>