I'm Italian, and I'm an economist, so as European leaders work feverishly to save the Euro, I've been wondering: what would happen if the feared contagion occured and my own country saw its finances melt down just as Greece's have? The short answer is that this would generate a fatal shock to the Euro, given the size of Italian public debt and the fact that a large share is owned by other Euro countries.
Of course, such an event is by no means a foregone conclusion. But I can't help noticing an ominous correlation. The country in Europe with the biggest untaxed, or "shadow," economy as a proportion of GDP is Greece. Next is (gulp) Italy. Then Portugal and Spain. On the chart below, in fact, the bars look unsettlingly like dominoes.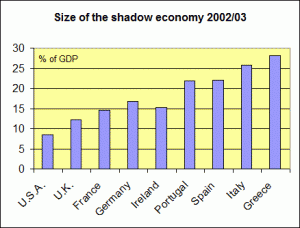 Much of the problem in these countries in Europe, in other words, is tax evasion. As the chart shows, the size of the shadow economy in Italy and Greece is much larger than in other developed countries, inside and outside the Euro area.
Massive tax evasion helps produce large public-sector deficits. Let's make some simple back-of-the-envelope calculations: if the shadow economy is adding 25 percent to GDP, with income going untaxed, and if the average tax rate on such income is a conservative 20 percent, recovering such tax revenues would imply an additional 5 percent of GDP in tax revenues, which would bring down the Italian 2009 deficit to zero. As deficits cumulate into debt, prolonged tax evasion could explain – by itself – the whole of the Italian public debt, now projected at 118.4 percent of GDP.
Attacking these deficits by raising taxes or freezing wages in countries where the shadow economy is so large could encourage further tax evasion, placing an ever-greater burden on an ever-shrinking proportion of law-abiding citizens who pay what they are asked. If Europe's troubled public finances are ever to be set right, Greece, Italy and other nations with large underground economies must find a way to collect the taxes that now go unpaid.
(Figures in the chart are from F. Schneider, Shadow Economies and Corruption all over the World: New Estimates for 145 Countries)
$title = the_title('','',false); ?> if ($title == 'Contributors') { //get_levy_contributors(); } ?>